We Are The Night, Part II: Něco Něco + Divnosti
Our series, "We are the night" presents artists, promoters, production managers, label owners and others who are bringing the music world of the Czech Republic, from the past to the present and the present to the future. This week we present an interview with Tomáš Tkáč, of Prague indie-electro band Něco něco and the Divnosti record label. Photo credit: Jana Plavec.
In search of new bands to discover, I came across Něco něco ("Something something") in a corner at the Islands of Prague, with a vibrant live show of rich music and a positive attitude. They had an energy that I wanted to understand, and a music that I wished to explore, from the genesis to the live set.
An appointment was made in the trendy Holešovice district with Tomáš Tkáč, the main composer, producer and musician of the duo, to speak about the past and present, and the process behind the band's new album, released on August 31st this year.
Feeling out the music scene
Tomáš had been gaining experience for some time before entering the music scene, both as a musician (mainly piano and guitar) and in the technical field, with studio and live event technical skills, mixing and supporting gigs.
Following the suggestion of another musician, Lukas Grygar, he founded their first band, Pris. Their first LP, Naše večery, released in January 2018, had an alternative pop rock sound, strongly influenced by post-punk with great melodic vocals as a nest, surrounded by electro bridges, and resonated in the alternative music scene.
This exposure gave him a clearer direction for his music and more experiences in studio mixing. With one foot in the studio and the other in the technical field for live logistics, we could say that music was starting to surround him. He used these experiences to build his own label, with every production available for free streaming on Bandcamp.
This new entity, "Divnosti" (strangeness), was born, as an official outlet for his work.
One language and multiple directions
A label is never a small initiative.
Between the studio work, the artistic direction of bands, the commercial agreement and the communication this entails… here also his learning path was important, to set up the roster with one thing common to all bands on it: using Czech for their lyrics.
"I got the impression that all the bands from here singing in English were simply copying, or trying to reproduce without creativity".
Covering a wide range of alternative music, navigating between indie rock and chill pop enveloped by electro sounds, textures and experience, the main concepts for the bands supported by the label, the musical identity of Divnosti quickly showed signs of coherence and a drastic originality.
The so-called alternative UK/US music standards with Czech lyrics and sound represents a savant mix of influences melting together to create a strong personality and musical identity.
Something about Něco něco ?
Tomáš met the other half of Něco něco, singer Alžběta, when he was asked by "Nervi mi do ucha", a band signed with the label featuring Alžběta and her twin brother, for some mix recording sessions and post-production work. They developed a common feeling of creativity and formed their own band.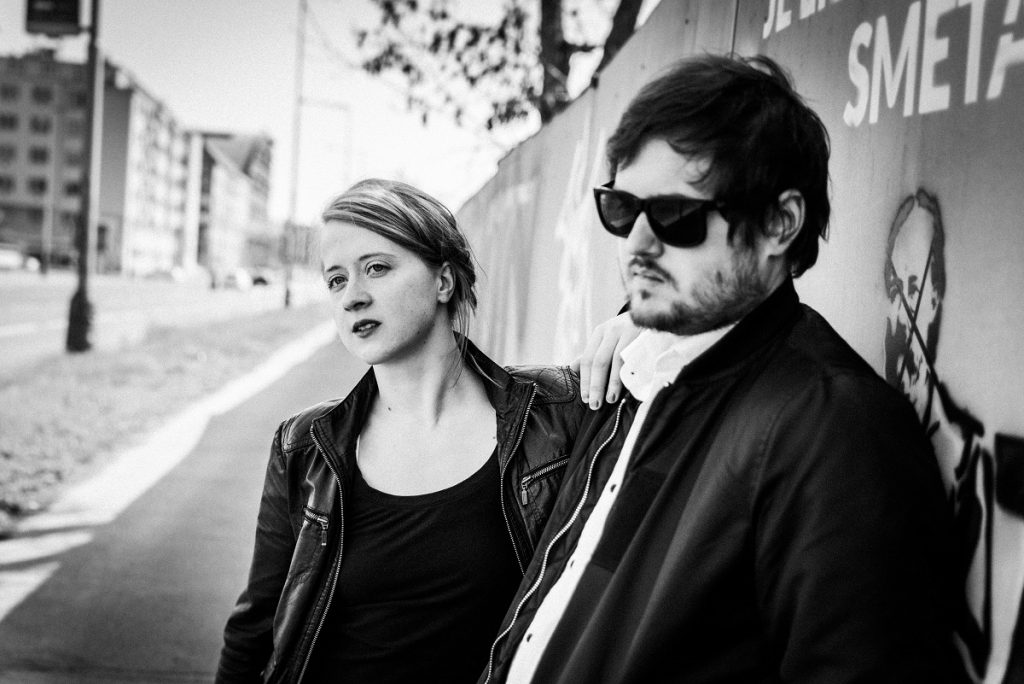 The band uses apparent simple melodies but with a lot of windows to explore, a soft electro pop taking on more dimensions with more listens and especially during live gigs, where they are accompanied by live percussion from drummer Václav Šafka.
The apparent light approach of their compositions conceals a vibrant music structure working in the background and reveals a danceable energy.
Somehow, the band is situated at the border of several genres: rock, pop, electro, but with a disco punk spirit, in fact Něco něco is a perfect example of where music is at in 2021, undefined and existing by virtue of the notes played, rather than the labels we put on it.
Referencing the work of James Murphy (LCD Soundsystem), and also having created their own label, we can easily feel how Něco něco love transforming music made from relaxation into more detailed tracks; both the band's albums are eventful and full of surprises with each new listen.
The first LP, Začíná, was released during the lockdown in April 2020, and so did not have the opportunity for much of a live run but received great reviews in the Czech music scene.
Tomáš's composition, production, guitars and occasional vocals complement the voice of the main singer Alžběta, spiced up by other instruments, a bright side of their composition, once again explosive live.
Where it is bright is also dark
The vocal lines of Něco něco are highly interesting, almost dissonant within the tracks, at turns darker, more cynical or more airy, perfectly linking the chain of events of the production (as in "Žádná hudba").
Tomáš sometimes joining in the singing completes that structure, adding a second vocal identity to create a common one; this band is not a duo, it is a one form unique entity, one body with two voices embracing each other or simply talking together.
Regarding the lyrics, Tomáš said "they are quite simple, turning on the theme of adult life, being around 30 years old in the world of today, between relationships to others and the end of the naivety of youth."
The vocals and lyrics are supported by subtle synth lines, building a dialogue between the singer and the machine ("Zbývá jen šum"), until finally we don't know who is leading who.. but do we need to know, when we can just enjoy?
The drums, electronic in studio, but live during gigs, adding to the rhythm section, a louder wish to dance and sometimes opening the way to Tomáš to take the vocal lead, as in "Co vlastně chceš".
The real life
Like everyone across the music scene in the last two years, the band were unfortunately not able to promote their first album, but they took the opportunity to record a second one, Útržky.
They took their musical revenge this summer, touring a lot, and playing festivals in the Czech Republic and Slovakia.
For Tomáš this crisis exposed the lack of unity between various actors in the Czech music industry (technicians, producers, bands, promoters, and so on): "I realized that we don't have a very clear status, such as in France or some other countries, as artists or part of the entertainment sector, we actually have no single voice to defend our rights or to speak in unison with the government, during a crisis like we encountered this year."
We can hope that his words will generate a wake up call to shared consciousness, and that the Czech artistic scene will initiate such a collective initiative in case of future troubles requiring communication with the state.
Tomáš then added a funny story from during a gig at Brno's Divadlo Husa na provázku. The rain was interrupting the day's program, and for a while the organizer was hesitating, deciding whether to cancel the events to protect the material and the bands.
But the crowd was demanding, and the musicians too.
"We were monitoring the weather to understand whether we would have a short time to play, the rain was stopping and starting again, and finally we had a window of less than 30 minutes, so we played just that short amount of time, but it was a sort of really intense set, and both we and the audience gave the maximum we could to enjoy it."
After the rain
For their second album, Tomáš and Alžběta, partners in life as well as in music, got together to brainstorm what they wanted to add in order to improve their tunes. The new LP's sound thus featured a larger vocal space for Tomáš, sometimes uniform and sometimes as a dialogue. They tried out some of the new tracks during their concerts this summer, a crucial part of the process.
So now, the only way to understand why Něco něco is really something, is just to explore both of their albums and, if you can, catch them live. Be sure you are gonna want to dance, under the rain or not.
What's on Tomáš's Jukebox?
Do Nothing – "Glueland"
Lael Neale – "Every Star Shivers In The Dark"
Olivia Rodrigo – "déjà vu"
Links:
https://sitemap.brnodaily.com/2021/09/16/culture/we-are-the-night-part-ii-neco-neco-divnosti/
https://sitemap.brnodaily.com/wp-content/uploads/2021/09/neco_neco-foto_Jana_Plavec2-1024x684.jpg
https://sitemap.brnodaily.com/wp-content/uploads/2021/09/neco_neco-foto_Jana_Plavec2-150x100.jpg
Art & Culture
Culture,Music,Prague
Our series, "We are the night" presents artists, promoters, production managers, label owners and others who are bringing the music world of the Czech Republic, from the past to the present and the present to the future. This week we present an interview with Tomáš Tkáč, of Prague indie-electro...
Anthony B.
biasiolianthonypro@gmail.com
Author
Music is a universal language, the one I prefer to use, from first notes of rehearsal to stages, between studios and official releases, I like to comment, spread and analyze, since two decades, new trends and old school movements, hoping a giant sound system will finally save the world...
Brno Daily